ZSC Series Rotary Bell Type Sand Removing Machine
Product Detail
Product Tags
Rotary bell desander is a newly introduced technology, which is used to remove most sand particles with a diameter of more than 02.mm in water supply and drainage engineering, and the removal rate is more than 98%.
The sewage enters tangentially from the grit chamber and has a certain flow rate, which generates centrifugal force on the sand particles, so that the heavier sand particles settle to the sand collecting tank at the bottom of the tank along the unique structure of the tank wall and grit chamber, and prevent the sinking of small sand particles. The advanced air lifting system provides good conditions for the discharge of grit. The grit is directly transported to the sand water separator equipment to realize the complete separation of grit and sewage.
During operation, the bell type desander system has high inlet and outlet flow rate, large treatment capacity, good sand production effect, small floor area, simple equipment structure, energy saving, reliable operation and convenient operation and maintenance. It is suitable for large, medium and small sewage treatment plants.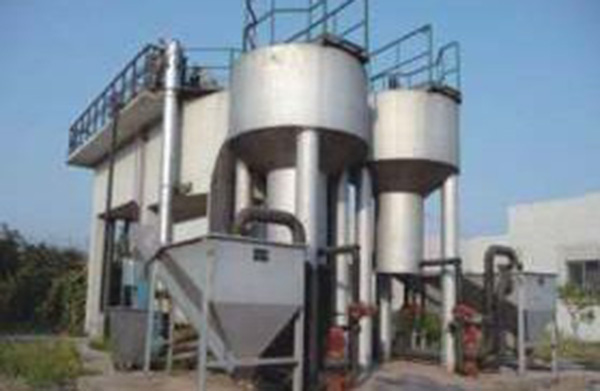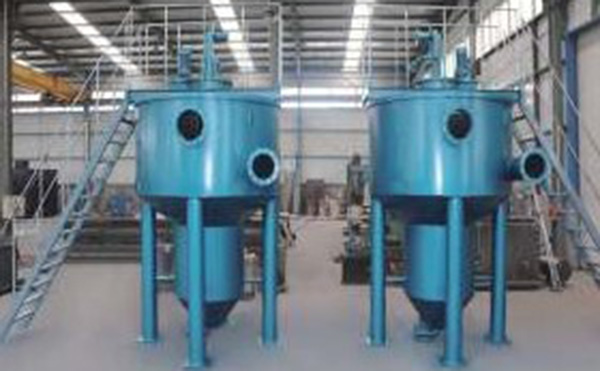 When the rotary bell desander is running, the sand water mixture enters the bell grit chamber from the tangent direction to form a swirl. Driven by the driving device, the impeller of the mixing mechanism operates to control the flow rate and flow pattern of sewage into the tank.
Due to the upward inclination of the impeller blade slurry, the sewage in the tank will be accelerated in a spiral shape during rotation, forming a vortex flow state and generating attention force. At the same time, the sewage flow in the tank is separated from each other under the action of the mixing shear force of the impeller blades. Relying on the gravity of the sand itself and the centrifugal force of the swirling flow, the sand particles are accelerated to settle along the tank wall in a spiral line, accumulate to the central sand bucket, and are lifted out of the tank by air lift or pump for further treatment. In this process, the appropriate blade angle and linear speed conditions will scour the sand particles in the sewage and maintain the best settlement effect. The organic matter originally adhered to the sand particles and the material with the smallest weight will flow out of the cyclone grit chamber with the sewage and enter the subsequent process for continuous treatment. The sand and a small amount of sewage will enter the sand water separator outside the tank, and the sand will be discharged after separation, The sewage flows back to the grid well.
| | | | | | | | | | | | |
| --- | --- | --- | --- | --- | --- | --- | --- | --- | --- | --- | --- |
| Model | Flow rate(m3/h) | (kW) | A | B | C | D | E | F | G | H | L |
| ZSC-1.8 | 180 | 0.55 | 1830 | 1000 | 305 | 610 | 300 | 1400 | 300 | 500 | 1100 |
| ZSC-3.6 | 360 | 0.55 | 2130 | 1000 | 380 | 760 | 300 | 1400 | 300 | 500 | 1100 |
| ZSC-6.0 | 600 | 0.55 | 2430 | 1000 | 450 | 900 | 300 | 1350 | 400 | 500 | 1150 |
| ZSC-10 | 1000 | 0.75 | 3050 | 1000 | 610 | 1200 | 300 | 1550 | 450 | 500 | 1350 |
| ZSC-18 | 1800 | 0.75 | 3650 | 1500 | 750 | 1500 | 400 | 1700 | 600 | 500 | 1450 |
| ZSC-30 | 3000 | 1.1 | 4870 | 1500 | 1000 | 2000 | 400 | 2200 | 1000 | 500 | 1850 |
| ZSC-46 | 4600 | 1.1 | 5480 | 1500 | 1100 | 2200 | 400 | 2200 | 1000 | 500 | 1850 |
| ZSC-60 | 6000 | 1.5 | 5800 | 1500 | 1200 | 2400 | 400 | 2500 | 1300 | 500 | 1950 |
| ZSC-78 | 7800 | 2.2 | 6100 | 1500 | 1200 | 2400 | 400 | 2500 | 1300 | 500 | 1950 |
---
---